Lenny Tropiano's
Home Page
[Click for all our family photographs]
Check out our house page!
Check out our new pool page!
A bit of biographical data...
I'm Lenny Tropiano, born October 9, 1965 (that makes me 44 years old, if you're counting) in Long Island, New York. I grew up in Bay Shore, New York, with my one sister, Luci. Went to Islip school district, and graduated high school in 1983. August 2003 was (or will be, depending on when you're looking) our 20 year High School Reunion (20 years, where did it go?), check out the Islip High School 1983 Reunion Website I created which hosts the pictures. My family is quite spread out. My mom lives in Charlotte, North Carolina with my step-dad, Carl. My father lives in Bradenton, Florida and is retired from the National Guard. My sister, was a 4th grade school teacher and full-time mother in Charlotte, North Carolina. Now I'm going to put my life into "fast-forward" by skipping ahead of all the boring biographical data on me.
Computing ...
Probably got most interested in computers as part of the "Computer club" (where incidently I met Gil) in Junior High. Although the Commodore Pet was interesting in school, I probably played way too much Space Invaders on it -- that poor A-key. Why I still remember the POKE 59468,14 to change it to lower case (and 12 put it back), is beyond me. I tell ya, if I could just get rid of some of those old memories to make room for some new ones.
Back many moons ago (during junior high and high school), when I got my first computer, an Atari 800 (also had an Atari 400 before that, I'm pretty sure my Uncle still has it) with a whole 48K of RAM, I spent far too much time programming in BASIC and playing computer games. With gratutitous use of simple variables, short-cuts and abbreviated BASIC instructions, it's amazing what you can pack into 48K and 320K single-density 5.25" floppy.
Probably even back then I enjoyed, writing BBS programs and frequenting the local ones with my Atari and modem at a blazing 300 baud and eventually 1200 baud. Gil and I would spend all hours of the night in my parent's kitchen, hooked into the only phone line dialed up to LIRICS, the local DEC System-10 (and later a -20), even before those Atari-days. He'd bring over his home-built terminal (photo courtesy of Gil Kloepfer), with also a home-built 300 baud acoustic modem (the couplers were made out of a radiator-hose for a car). You didn't want to whistle too loud, it would drop carrier!
In my later college years, I would find myself wanting a little more than just Atari games and BBS'. Working for an AT&T VAR, I did applications programming on AT&T 3B-systems running AT&T UNIX System V Release 2. Financial programming by day, and UNIX-hacking by night ... I bought myself an AT&T UNIXpc/3B1 workstation from the company I was working for. Hey I bought a $8000 machine (several years before I bought it -- granted certainly not worth that much), for a little over $1000. It ran UNIX, or at least they claimed it was... The variant of System V and BSD was fun to "hack" on, I wrote many utilities for that box, some of them can be found in the 3B1 archives. Back then UUCP was the name of the game, I was connecting up to lots of sites (such a good net-neighbor). Telebit Trailblazer Plus modem at 19200 baud (PEP) was the primary modem of communications. An extra phone line was installed in my parent's house, and I was talking to people all over the world. Amazingly enough, USENET news fit on the 2nd 67MB hard disk (thanks to the hardware-upgrade Gil and I did for the 3B1). I was registered as "lenny@icus.islp.ny.us" and e-mail was an every day occurence.
Five years ago you would have thought, I've graduated to a little more high-end systems at home. They are two Intel 486DX2/66 systems. With several large disks, CDROMs, 4mm (5GB) DAT backup, Ethernet LAN, 17" color monitors, ISDN to Ethernet router (Ascend Pipeline 75), Internet connectivity, two high-speed modems (Telebit T2500 and ZyXEL U-1496E), FreeBSD, DOS and Windows. Still doing UUCP with a few folks, dialup SLIP with others, and best of all direct ISDN Internet connectivity with everyone else... Granted, news doesn't fit on 67MB disks anymore. [54Kb photo of the system (a bit old) is available]
The 486's got retired in 1999 were upgraded to AMD K6/2 350Mhz and 450Mhz (home built) systems. I still run FreeBSD and Win98SE utilizing Network Address Translation (NAT) for the new connectivity we have, Time Warner Roadrunner Cable Modem. The ISDN connectivity is still our main setup until Time Warner proves themselves to us and can provide static IP addressing for service support. Both new systems are AMD K6-2 350Mhz and 450Mhz processors, ASUS P5A Super-Socket 7 motherboard, Matrox Millenium G200/AGP 8MB SDRAM video card (Windows system) and Matrox G400 (FreeBSD), 128MB RAM, 8.4GB and 10GB UDMA HDs, video capture card, high-end sound, and 3com 10/100 NIC. It runs Nathan's games and our setup for X11 and FreeBSD really well!
In 2001, upgrades galore. I have several P-III's (600Mhz, 700Mhz, 1Ghz), running varieties of FreeBSD, Windows 2000 Professional, and Redhat Linux. For ease of management I run NIS (master and clients), Samba, Apache, amd/NFS, etc. I've dumped RoadRunner in favor of SBC and Jump.Net's DSL using a Cisco 827 ADSL router using IOS FW feature set. I use the Nortel Instant Internet 100 box for full time VPN branch office connectivity to home. This includes even the VoIP Cisco 7960 IP Telephone.
Later in 2003, we were forced to switch to SBC ADSL, as Alliegence Telecom (ala Hosting.com, ala Jump.Net) went belly up. We also have a few more machines and changes. Got a great deal on a Dell Dimension 8250 (2.4Ghz P4) which now has become my video editing/multimedia box, running Windows XP. One is running Debian GNU/Linux which handles the Open Source PBX: Asterisk. It's connected via an FXO port to Vonage (and it's Cisco ATA-186). Still use those a Cisco 7960 but in SIP mode.
In the April 1995 issue of Byte Magazine, I co-authored an article with Dinah McNutt entitled: "How to Implement ISDN".




College and Professional Career
My first few college years were at Rochester Institute of Technology (RIT), up in Rochester New York. I later transferred to Hofstra University. I graduated with a Bachelor of Science in Computer Science in May 1988 from Hofstra University in Hempstead, NY.


In November, 1988, I accepted a position with IBM's RISC System 6000 Division, in Austin, Texas as an AIX Customer Support Engineer. AIX was new to me, although I had a good background in UNIX (mostly System V) from my previous job in New York. I quickly came up to speed on AIX, and the politics of IBM ... In January, 1993, I transferred within IBM to the AIX Development
Organization. For two years I was a AIX kernel developer, I spent most of my days programming and debugging the LVM (Logical Volume Manager) under AIX. During that time, I co-invented a patent which was issued on July 15, 1997, for a Method for incrementally archiving primary storage to archive storage by utilizing both a partition archive status array and a partition map.
The first page is available in Low Resolution (GIF format) and (High Resolution)
After IBM, on December 5, 1994, I went to work for the Applied Research Laboratories of the University of Texas at Austin (ARL:UT) working on a project sponsored by the Defense Advanced Research Project Agency (DARPA) of the Department of Defense (DoD). The Synthetic Theater of War (STOW) project is doing wargame simulation on local area and wide area ATM/B-ISDN networks and other high speed communications using a multimedia heterogeneous computing environment. There will be Intel-based machines running UNIX, Silicon Graphics (SGI) workstations, Sun Microsystem, IBM, Digital Equipment, and Hewlett Packard workstations.
On April 1, 1997, I was employed by VTEL Corporation in their Functional Test Group. My primary functions was developing tools to assist with the automation of network testing. These will help to stress their networks (ATM, ethernet, token ring) to determine how voice and video conferencing works over those medias.
Two years later, April 1999, I was promoted and transfered to the Information Technology group. I became the Sr. Network Manager responsible for the entire global networking infrastructure within VTEL. I managed the LAN, WAN, Intranet and Internet connectivity.
In mid 2001, VTEL reinvented itself as Forgent. They're now focused on visual network management software, services and integration. Once the JPEG patent stuff happened, they dropped most of their inventive software ideas for a staff of laywers and lawsuits. They acquired that patent, and many others, from the Compression Labs acquisition.
In early November 2001, I left Forgent and now am a partner in our own business, VoIPing, LLC. Brian Sinclair and I are enjoying being local business owners. VoIPing, LLC is a Central Texas privately owned and operated partnership specializing in IT Consulting and Services, with a strong emphasis on converged networks and Voice over IP (IP Telephony). The company is owned and operated by its partners, Lenny Tropiano and Brian Sinclair. With over 43 years of combined experience, they've accomplished world class data center design, implementation and operations from the ground up in several local high-tech companies. They've put their expertise together to bring state-of-the-art converged networking (voice, video and data) to businesses. Projects done on time, on budget, and with strong return on investments (ROI) in mind.
In 2003, VoIPing, LLC did a presentation for CACTUS (Capital Area Central Texas Unix Society) on VoIP (SIP, H.323, etc.) complete with a great demonstration of Asterisk PBX (Open Source PBX). The presentation and all the links is available on our website in many different formats.
In October 2003, I took a full time job with Rocksteady Networks, Inc. as their Director, Advanced Technology and Networking. Where possible, consulting with VoIPing still continues. Rocksteady develops software to manage the nexus where the LAN meets the WAN. Bandwidth shaping, firewalling, user specific profiles and VoIP. My role in the company includes many hats, manager of the 24x7 Support/NOC team, one of the lead researchers on the Engineering team and one of the two top IT managers. One of my first contributions was to convert their entire office over to VoIP using Asterisk. Unfortunately at the end of 2004 it became a casuality of the dotcom era. The ex-Rockers keep touch in the Yahoo Group (ex-rock). While employed there I spoke at the first annual Astricon (2004) Conference on replacing the Avaya with Asterisk (Bye Avaya, Hello Asterisk).
In January 2005, I accepted a position with Trillion as a Sr. Systems Engineer/Architect. My role in the company was assisting them in deploying new services and monitoring existing ones. They have a strong background in wireless, security and VoIP. Their customer base today is primary education (deploying WAN services for rural school districts). They are also exploring other customers, for example, hospitals and medical facilities. My extensive IT, Networking and Unix skills will come in good use there. Trillion follows and participates in the WiMAX Forum. Trillion's continued success happened throughout 2005 and in early 2006 they acquired the assets of their sister company, Trillion Digital in Bessemer, Alabama. They now have a nationwide footprint as a service provider for school districts.
In March 2006, I became one of the key contributors in Operations team at Coremetrics responsible for provisioning, networking, systems, security and global data center infrastructure. Managing the budgets, forecasting and planning lifecycle through implementation and deployment for four domestic and one international data centers. With my excellent negotiation skills with vendor relationships offering the ability to reduce costs across the board for all operating and capital expenditures. I designed, procured and implemented data center operations from the ground up in under 30 days, fully operational migration in under 90 days saving millions for the company annually. Many of my contributions saved Coremetrics millions in annual expenditures. Two years later, I moved on.
The Austin events...
I'm very happy here in Austin, where on Friday, April, 22, 1994 at Green Pastures, I married the most wonderful woman in the entire world (of course, you knew I'd say that!), Debbie. Previously to that, we had our rehearsal dinner (with 40 or so out of towners) at the infamous, Saltlick.
Our wedding was perfect, but I can say, I really don't want to pull off an event like that in the near future. Of course the highlight of that year of planning led to the honeymoon, where we spent almost two weeks cruising the Mexican Riveria, and enjoying the good life. Thank goodness for alt.weddings, because without it and the wonderful support from our friends (who still talk to us, after the many months of listening to wedding details), the wedding might not have been carried off so smoothly.

Debbie and I used to live in a house in North Austin, almost in Pflugerville. We moved in Nov '96 and now live in Cedar Park in our Wilshire Home we had built. Shortly thereafter, we sold old house that was on the market. We met, because we both were reading USENET netnews, rec.pets.dogs, and I innocuously responded to a query of her's, about dog food. We each had one dog at that time, and they needed company (and so did we...). One thing lead to another, I proposed to her at Cinderella's Castle in Walt Disney World, Florida and now we're happily married. (How about that for a Reader's Digest version?). Together have four dogs, Piper and Dawn were my two before we got married, and Nickie and Lusi were Debbie's two. (Sadly, we lost Dawn to kidney failure in June 2001 and more recently, Nickie to unknown causes in his sleep in October 2001). The other two are thriving but getting older.

Austin is the Capital of Texas for those who didn't know. It's located almost direct center in the state of Texas. The climate is very nice, especially in the winter. We do get a bit of snow, sometimes (for instance on 2/3/96) we got some. I don't miss the snow we get in New York, that's for sure.
In the early part of 2000, we decided to put in an in-ground swimming pool. It's an expensive hole in the ground, but I'm sure we'll get many years of enjoyment. The entire saga is available complete with photographs and timelines on the web.
My son born 8/17/1995... and now he's twelve, where have the years gone?
Parents!?! Yes, I'm a father now... Our baby, Nathan Elliot Tropiano is real vogue, has it's own web page and Internet e-mail address. Our baby turns 12 years old this year. He enters 7th grade (this year) after being a "straight A" student in 6th grade. Very social and very outgoing. Years ago his passions were Yu-Gi-Oh cards and BeyBlades. Today he spends quite a bit of time with his Nintento DS, Playstation (playing Guitar Hero II) and other computer related activities. He's an excellent swimmer, and enjoys the summer time in our pool. He's a wonderful big brother to Leah (see below). His webpage is quite a bit out of date, hopefully daddy will get the time to get some recent updates to it. More photos of him are on our Photos pages. After Nathan was born, we had to get a new family-mobile, the two door cars (Saturn SC and Toyota Celica GT) just weren't going to work out. Plus it's always nice to have a new toy. Check out the 1995 Ford Explorer Limited that we bought. In 2002 we traded in the Explorer for the new family mobile, 2003 Honda Odyssey EX-L-NAVI. And now, we're a two Honda family. The 1993 Toyota Camry XLE had a run in with a pick-up. The Toyota lost, but we went and bought a new 2003 Honda Accord EX-L V6.
Sara is born, but life has thrown us a twist...
After battling secondary infertility, we found out in early 2000 to find out that we're going to have our 2nd. This was thanks to the medical intervention of Dr. Kaylen Silverberg. On October 25, 2000 Debbie had another c-section. Shortly after birth of Sara Elizabeth we realized something was wrong. Prenatal exams informed us of the cleft lip, which we were expecting during birth. Unfortunately it was much much more. Sara was moved to Childrens Hospital in Austin, NICU. The next 13 days in NICU were the most difficult for our entire family. The last day, she was operated on her most serious of the birth defects, her heart defect. We became immediate experts in CHARGE Syndrome, a complex disorder affecting many parts of the body. Sara was on the worse end. She made it through the surgery, but not through recovery. She died that evening, November 7, 2000. May she rest in peace. Her short life touched many, she'll never be forgotten.
We adopt a wonderful girl from Taldy-Korgan, Kazakhstan
After the realization not being able to chance having another biological child, our energies as a family turned to International Adoption. Debbie and I selected European Adoption Consultants adoption agency to assist us in getting our daughter from Kazakhstan. We selected the Kazakh program because of the wonderful children, the likelihood of good health, the likelihood of a faster process and younger child. On February 15, 2002 we went to our first EAC seminary. Two days later, we sent in our initial paperwork to INS to get the process rolling. The initial dossier process (lots and lots of paperwork) took until April 26, 2002. On May 14th, we received INS approval and on June 6th we got a referral for a little girl (then about 6 months old) Alyona. After reviewing the video and getting International Adoption Specialists (doctors) to review the medical and video, we accepted the referral for Alyona on June 18th (Leah Alyona as we renamed her).

We had to wait a little before travelling, a wait worthwhile. On September 11, 2002 (a day two years from the horrible events), we travelled to Almaty, Kazakhstan (leaving our son with my mother back in Austin). On September 14th we were united with our daughter, Leah Alyona. Completing the process on September 26, 2002 in court where it was made official, and then finishing paperwork and exit VISAs in Moscow, Russia to return home on October 6, 2002. Leah has been nothing but a joy in our lives. Many pictures of the trip and the past few months (and beyond) are available. More information on Kazakhstan International Adoption in Texas can be found at Texas Kazakhstan Reunion website. We went to the last reunion, here's a family photo:


We event started a Yahoo Group for Taldy-Korgan families (such a small town, 280km NE of Almaty) there are a bunch of members.


Some volunteer work
I've been assisting with web page design and hosting for the Congregation Beth Israel, in Austin, TX. The pages are updated as needed, bulletins put online for the Reform Jewish community to view. I've also setup e-mail address contacts for Rabbi Steven Folberg, Rabbi Ben Sternman, Cantor Jaime Shpall, and Temple Office along with some other staff members. In 2003, the website will go under a complete transformation and I'll be handing it over to a team and Darim Online. I'll still manage the FreeBSD based Unix server for e-mail and mailing lists, and advise the team during the transition.
I also designed and put together the website for the Oakmont Forest Homeowners Association. But later passed this onto another homeowner to re-design and update. The other homeowner gave up and handed this over to the Association to be run by them. This is where we built a house in Cedar Park, TX.
In 2003, as a birthday present for my mother I created a website for my mother's passion, Cruising. The web community, CruiseBuggie.com opened in late May, and by July had over 330 members (two years later, we're well over 1650 members). I still manage the website, my company hosts it on our colocated webserver. This site was developed using PHP Nuke. We thank Sincat Graphics (Jean Sinclair) for designing our wonderful logos that randomly show up on the website. We also have a CafePress "Ship's Store" for wonderful logo-wear and cool items for sale.





My company also donates hosting to two Adoption groups, FRUA-Austin (Families for Russian and Ukrainian Adoption and Austin International Adoption Fair (AIAF). The first AIAF was held at the Dell Diamond on Saturday, November 9, 2003. The next one will be held in 2007.
Islip High School Class of 1983 had their 20 year reunion in August 2003. I created a web site that will host the photos from the event. It was fun to see old friends. My entire family went up to New York in August.
Things I like to do that keep me busy ... (Interests, Hobbies, and Organizations)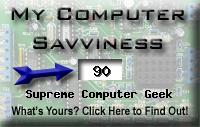 #include <std/disclaimer.h>
ICUS Software Systems, Austin, TX
lenny@icus.com
Last updated: Sun Nov 1 22:06:57 2009



Return to ICUS Home Page